And a true pro isn't going to say, "Putters are garbage; a driver is the only way to go." Instead he's going to tell you to match the tool to the job at hand.
I'm telling you this so you don't think I'm some "one-trick pony," who only knows--and can only recommend--one type of real estate investing.
But almost everybody avoids no, almost everybody is SCARED of apartments. I'm going to show you
Back to golf: Knowing how to invest in apartments without dealing with tenants is like adding a massive driver to your golf game. Will you use it for every shot? No. Could you instead play an entire 18 holes of golf with nothing but a putter (single-family homes)? Yes, but why would you want to?
Do you need a pro who can show you exactly how to handle one of those puppies? No, but it'll be a lot faster and more efficient than making all the mistakes yourself!

The Story of How I went From Being a Landscaper to Enjoying $9,700 Per Month in After-Expenses Cash Flow... in Just 12 Months!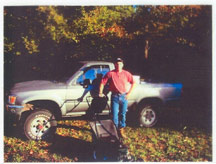 Eight years ago I had my own landscaping company. I always wanted to work for myself and thought I'd make my fortune being the "Landscape King" of the world!
That dream quickly went down the toilet, because I couldn't make any decent money in the landscape business. Plus it was a lot of hard, dirty work. I'm not afraid of hard work, but I at least want to get paid for it. I thought surely there must be an easier way to make some dough!
Do you live in New England? Well I do. Every year--without fail--the winter comes and puts us in the Deep Freeze. Until we thaw out in the spring, there's no landscaping to be done. And let me tell you, snow shoveling doesn't cut it.

"Thanks for all the training. I took what I learned and bought a 110-unit complex here in Augusta for NO MONEY DOWN! My positive cash flow is over $11,000 per month! I just signed my second deal--get this--170 units, NO MONEY DOWN, over $22,000 per month positive cash flow! Working on my third; will let you know what happens!"
-Justin Anderson,
Augusta GA
I spent my winters doing odd jobs just to scrape by. During my third winter, a friend of mine, who worked at a local bank, asked me if I wanted to put in a bid to repair a foreclosed property that the bank had. They wanted it fixed up so it could be resold.
I said "sure." I had absolutely no carpentry skills and no idea how to do the repair estimate, let alone the repairs. But I was desperate, and would have done anything for work.
I got my cousin to help me with the estimate. When I won the bid, he came back to show me how to do the repairs. I did the easy stuff and I hired subcontractors to do the rest.
At first I was afraid of subcontractors, but soon realized that there actually are more good ones out there than bad ones. As long as I had them sign my contracts, the jobs went fine.
Well, I finished that job and the bank gave me another house to bid on. I won that, did the work, and got another.
I Was Making Money With Single-Family Homes...
But I Wanted to Make More Money, Faster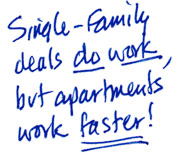 It was just about that time that I saw a TV show on Harry Helmsly. You probably know of his infamous wife "The Queen of Mean," Leona Helmsly. The show described how Harry, who started with nothing, began buying, selling, and holding apartment buildings in New York City (long before Donald Trump).
He quickly became a millionaire, and then a billionaire!
I dropped my Salisbury Steak Swanson TV Dinner in awe. I decided right then: That was what I wanted to do! I'm gonna own apartment buildings!

I wanted other people to pay my mortgages, creating huge equity in my buildings. Eventually I would own them, free and clear.
I wanted to watch my buildings appreciate over time, thus making me wealthier and wealthier.
I wanted to live off the positive cash flow that I received each month, so I wouldn't have to go to a job every day.
Oh, and I liked that "millionaire" part!
I started going to the local investment club and listening to the different speakers. I bought all the books and tapes I could find on real estate, even if I didn't find much at all on apartments. I studied the books and listened to the tapes over and over again. I networked with more experienced investors and started "bird-dogging" for them (finding them deals).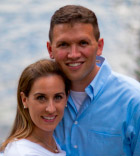 6 Unit Offer was 49% of Asking Direct Mail Campaign Cashflow is $1,200 a month!
Through my improved presentation skills, we were able to find a private investor who invested $28,000 with us in order to receive a far better return than they were receiving in a money market account. This investor allowed us to purchase this property, with no money out of our pocket! Due to Dave's teaching and coaching we were able to identify the following value add opportunities that helped to push our monthly cash flow for this building to $1,200+ / month!!
-Emily & Sean Hewett

---

We just got back from the Apartment House Riches Boot camp in Vegas. The seminar made a lot more sense this time around.

We were able to pull off our first Multi-family deal about a month ago. We needed a second office that was located closer to our houses in the South Bend area. We found a nice building on a corner lot that has about 1,800 square feet of office space on the bottom and 2 units on the top. This has worked out really well for us as the tenants upstairs are helping us pay for our office below. We currently have another 78 unit, 36 unit and a 4plex in the pipeline.
-Matt Gingerich & Earl Miller

---
"[Using your strategy], I went from owning a condo with $64,000 in equity to a 7 unit apartment house. I had a $522 positive cash flow on the condo, but now I have a $2,500 positive monthly cash flow with the apartment house.
The best part is, I did not take any cash out of my pocket. Thanks for all of your help as I went through this process... I had never done a 1031 exchange before, but it was a lot easier than I thought."
- Marlene Green,
Jersey City, NJ
Within a short time, I was thinking about buying my first apartment, but I had a problem.
I Was Seriously Afraid of Apartments!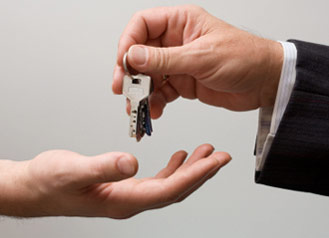 I was afraid of tenants; afraid of being a landlord. I had heard horror stories of how tenants got out of control, didn't pay their rent, and destroyed the buildings. Were all those stories true? Whoa, I didn't want that to happen to me! My snowplow and Dunkin' Donuts "Box O' Joe" seemed so much safer.
When I went to my next investment meeting, I looked for the most successful apartment owner in the group. I pulled him aside during the break, and asked him if all the tenant stories I heard were true.
He asked me if I could keep a secret. I said OK. He told me that the tenant horror stories I had heard were probably true, but from property owners who never took the time to learn how to manage their tenants and their buildings properly.
For every horror story, there were plenty of other happy landlords making a killing from owning apartments. He said, "Just look at how many apartment buildings there are out there! If it were so bad, why would there be so many?"
"Here's the real secret Dave, he said. "I just listen and laugh inside at those stories, because it keeps the competition down. I get my best deals from frustrated landlords who aren't smart enough to learn the tricks of their business."
That was the advice I needed to get off my butt and buy a building! It was only a dinky three-family at first...but hey, I was on my way!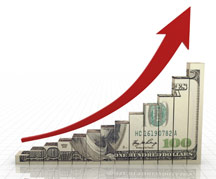 After I got over the fear of buying my first building, within three months I had three more. Within six months I had nine properties. At the end of the first year, I owned eleven small apartment buildings, all giving me positive cash flow.
At the end of twelve months, I had a positive cash flow of $9,700 per month! Not to mention that I learned how to rehab single-family houses for huge profits and was using those profits for down payments to buy more apartments.
It's been 12 years now. I own over 6,000 units. My monthly cash flow is more than most people make in a year, and I could have retired after the fourth year! But why should I.I'm having way too much fun!
I Know What You're Thinking About Apartments:

Misconception #1: "Apartments? Sure, the profits might be great, but Yuk! No way I'm gonna deal with tenants!"
What if I told you...
It's been two years since I spoke with any of my hundreds of tenants?
Of course it's a pain to deal with tenants, if you just blunder around, not knowing what you're doing. But if you take my systems, you can farm that work out effectively and profitably, so you don't deal with a single tenant.

Misconception #2: "Apartment deals must be way harder to do; I'll walk before I run, and do single-family deals instead."
Does buying a Hummer take way longer than buying a VW Bug? It's the same process. With apartments, you use largely the same methods you have with single-family homes. And where they are different, I've developed systems that clearly spell out what needs to be done and when.

Misconception #3: "It's easier to do single-family homes because there are a lot more of 'em."
Well, it's true that there are lots more single-family homes than there are multi-family properties. But there's waaaaay more competition for those homes, too. I'm living proof that you can make an obscene amount of money with single-family homes. But what do I prefer? I'd rather do about the same amount of work, and make even more money with apartments!
I'm living proof of that, too!
Now it's time for me to give back.
I'm not keeping the secret any longer!

My family thinks I'm insane for sharing this information with anyone. But I know something they don't yet know: There are plenty of deals out there for all of us to become wealthy. If I scoop millions out of this ocean of real estate, it's still a vast ocean for my students to dip into, and pull out their--and YOUR--fortune.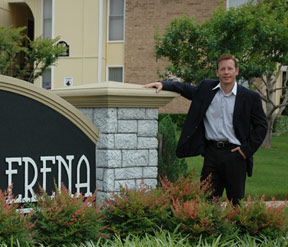 When I started buying apartment buildings, there was no course available to teach me how to do it. I took what I learned about buying and selling single-family houses, and adapted it to apartments.
I found out the hard way that there are a few important differences between buying a single-family house and buying an apartment building.
I made a lot of mistakes in the beginning--some very costly. But what counts is I learned from my mistakes, and I created systems so I wouldn't ever make those same mistakes again.
My road to wealth was fast, but I still had to blaze some trails by creating those systems. I envy you!
You can travel in the same direction, I did to the gold mine but...
You can take the Interstate!
That's because I've grouped all of my knowledge, and all of my systems, into a manual called:
"Apartment House Riches"
The complete system is an information-packed 143-page manual, with 10 audio CDs. Together, they explain exactly how I went from owning nothing but a rusty snowplow, and working 60 hours a week in my day job, to creating $9,700 in monthly spendable cash flow in twelve months.
This step-by-step guide makes it "connect-the-dots" simple for you to do the same. You won't make the same mistakes I did. You keep more money in your pocket, because you'll go into each deal knowing exactly where the hidden profits (& pitfalls) are.

You will learn it all, from the basics to cutting-edge stuff. Here's a sample of what I cover:
How apartments make you wealthy safer and faster (single-family is OK, but why not enjoy single-family profits on steroids!)
My 4 experience-tested, absolute keys to successful apartment house ownership. Do these, and you'll never look back!

Page 6

How to accurately determine what stage of the market cycle you're in at any given time. Knowing this will allow you to adjust your buying and selling strategy. You won't just increase your profits...you'll

turbo-charge

them!

Page 46
If You Aren't Sure How To Find Good Apartments,
You've Come To The Right Place!
What your three main objectives should be when buying apartments. Keep these in mind and you will become wealthy faster than you ever dreamed . . .

Page 31

9 proven letters that I use over and over that get motivated sellers to call ME. What do you need to do? Simply change the names and let 'em rip!
What it takes to have your city officials hand you sweet deals. Imagine making money and being "a pillar of your community" at the same time!


Page 18

The classified ad that works like a magnet in any market . . .

Page 21

Identify the best stage of a market cycle to buy apartment buildings . . . and know with confidence when it's time to sell. (Hint: It's not when most people think!) . . .

Page 45

11 reasons owners are motivated to sell. Sniff 'em out easily once you know where and how to find them . . .


Page 13

How to find the REALLY good deals . . .

Page 11

(You better be able to tell the difference!)
The 7 minute Apartment Analyzer Form. Just have your sixth-grade kid fill in the blanks, and you will know if you have a winning deal. . . .

Page 42

A 5-page Buyer's Checklist to use as a guide.
Don't miss costly items that will leak away those precious profits . . .

Page 57

Protect what you have by buying properties in the correct entities. It's 100% legal, and makes the nosey ambulance-chaser attorneys go look for easier prey. In fact, do this right, and they won't know you exist! It's all in my 11th chapter.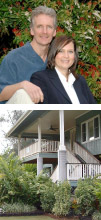 When we were in Dave's event a few years ago, we meet a co-student who ask us to partner with them in a 240 unit apartment in Texas City, Texas. That property closed on leap day, February 29th, 2008. After 3 years of ownership we have paid out a consistent monthly distribution of 9.75% COC return.

Also, we are close to signing a purchase and sale agreement on 264 units, class B- in Houston, Texas. It's an owner carry back for 5 years, 6%, with 20% down. We are pretty excited about it!

-Randy R. Hynes
If You're Shaky About Negotiating,
My System Will Make You Look Forward To It...
The secrets to writing offers that get accepted without haggling or working hard at it . . .

Page 78

(Otherwise, why bother?)
Five keys to successful negotiating . . .

Page 69

(Learn the right ways, and you'll actually look forward to negotiating!)
A 4-part negotiating formula guaranteed to get you more deals...It puts more dollars right into your "Hip Pocket National Bank" . . .

Page 76

The 6 costly mistakes to avoid while negotiating . . .

Page 72

(Nothing complicated, but you better know them!)
The 4 methods that shrewd investors use to keep more money in their pockets at closing time.

Page 85

. (After the close of escrow, it's too late!) These methods alone could finance your next dream vacation!
Now That You Own An Apartment,
Here's How To Become A "Silent Investor,"
Hidden In The Background, Collecting Rent Checks.
Magnify the profits by managing your properties the right way with ZERO tenant hassles . . .

Page 106

My "Kick-Butt, No-Holds-Barred, Never-Lost-In-Court, Got-to-Have" Lease. This by itself will put you above all other apartment investors, and is worth many times what you paid for this system! . . .

Page 115

An absolute "must." My 2-page rental application: It asks all the right questions, and weeds out the deadbeats, so you're renting with confidence . . .

Page 112

The Six Rules of Tenancy: Explain these to your tenant at the time of application and watch the bad ones run for the hills! . . .

Page 101

Pre-written letters to send tenants a "spanking" to keep them in line. (Most tenants follow the rules, but when they don't--here's the easy, effective answer.)
Train your tenants to mail you the rent on time, every time! . . .

Page 106

Do not EVER hand over the keys to an apartment until you get these 3 vital items. If you do, you're screwed! (ask me how I discovered this!) . . .

Page 105

Exactly how to choose a property management company.

Page 107

. This advice alone will make your apartments easier to manage than your single-family homes!
Four essential reports to keep you profitable, and keep paperwork to a manageable minimum. (Your only surprises should be good ones on your birthday.)
The most common financing techniques, and how to get them done successfully. . .

Page 87

How to structure the four most common second mortgages and which one works best. . .

Page 83

Nine easy ways to reduce your expenses .
allowing you to do fewer deals to make more money. . .

Page 101
When You Decide to "Cash In Your Chips"
and Sell Your Apartment, How to Maximize Your Profits:
The secret to finding the BEST real estate agent to sell your property. . .

Page 140

(Agents are a dime-a-dozen; but the ones you'll deal with will become a great source of deals to be handed to you.)
Take advantage of FREE nationwide advertising for your property . . .

Page 142

The 4 keys to selling an income property yourself (if you want to), so you can keep that sales commission in your pocket . . .

Page 141

How to sell your property for maximum dollars, so you can do fewer deals and make as much--or more--money . . .

Page 138

How to sell your apartments and defer those profit-sucking capital gains taxes, so you can use ALL your profits to BUY LARGER apartments. This is how your wealth can simply explode!. . .

Chapter 10
Get the shortcuts from someone who's been in the trenches of real estate investing, and who can show you step-by step how to experience that thrill of financial Easy Street soon!

Warning: ONLY Take Apartment Advice From Someone Who's Made Millions From Them!
Would you take medical advice from some loser who said:
"Yeah, I went to medical school for one year, but I dropped out, because I know better. Here, take this potion I made."
Yet those quacks are everywhere in real estate! They can't point to successes of their own in some area, so they criticize it! They figure if they can't make something work, then nobody can.
I've never run a restaurant, so don't take my advice on the right way to buy a side of beef. But I do currently own 33 apartment buildings, many of which are in tough neighborhoods, where the kids are born already looking like miniature Rambos.
I therefore know a thing or two about the subject. Take your advice from a winner who can show you how to be successful, not from losers who give you 101 reasons why they can't make something work.
"So What Do I Get With This System?"
Here's all the power-packed information that you'll get when you order my "Apartment House Riches" system: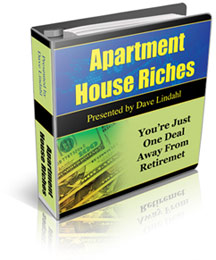 A 143-page Guidebook that will show you step-by-step how apartments will make you wealthy; the safer, faster way. You'll discover how to find the deals, how to evaluate properties, keys to successful negotiations, writing offers that get accepted, managing your property for profits, using 1031 Tax Deferred Exchanges to multiply your wealth, and how to eventually sell for maximum dollars.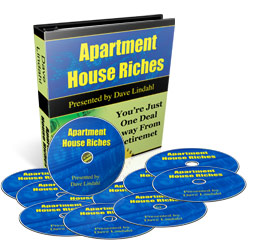 10 Audio CDs that you can plug into your car or home CD player and get a "classroom at home" teaching experience that will cement these concepts and amplify the techniques and coaching that I'm giving you.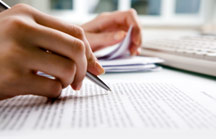 Apartment Analyzer Worksheet. Remember, buying an apartment building is similar to--but not precisely like--buying a single-family home. You must evaluate each deal in a particular way. If you use the same techniques as you do for single families, you WILL get burned. If you follow my Worksheet, you WILL know what you're doing.





Due Diligence Checklist. This is where you follow through and find out if everything the owner is telling you is true. Do the tenants pay what they say they pay? Are there any hidden, below market long-term leases? Who is the maintenance contract with? How much does he really pay for utilities?
This Due Diligence Checklist is FIVE pages long. Everything is listed on these five pages. Check off the items and you've got a solid deal. Miss some of them because you don't have my checklist and...well, put your hands together and pray!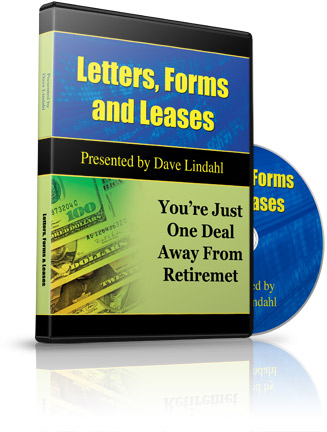 Letters, Forms and Leases
A CD-ROM that includes all of the marketing letters, tenant letters, tenant application, and all of the other forms ready to download and print so you can begin using them right away.
It also includes my famous "Never Lost In Housing Court Tenant Lease." That's a mouthful, but you want to use a lease that virtually has tenants giving up their rights. Hey, they wanted to live in your building; they must follow your rules or get out!
This lease has never lost for me in Housing Court! A $99.00 value.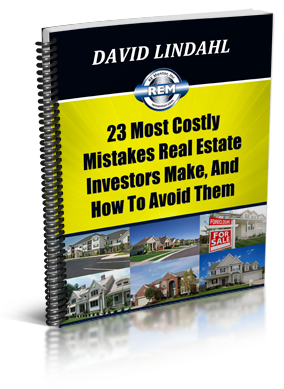 Special Report: "23 Most Costly Mistakes Real Estate Investors Make and How To Avoid Them" A $59.00 value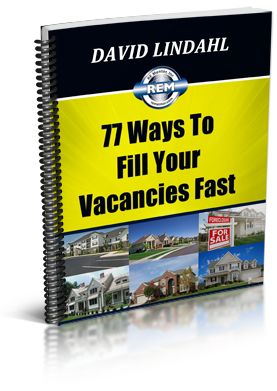 Another Special Report - "77 Ways to Fill Your Vacancies Fast"
A $59.00 value





Another (older) real estate guru told me, with that "Listen, Son" tone of voice, that I'm leaving money on the table. He said I should be charging "at least fifteen Franklins" (fifteen $100 bills) for my system, and that he could easily do so.
But I'm willing to bet that if I can make this affordable to a whole bunch of people for a whole lot less, then I'll be able to help many more people achieve true wealth through apartment house investing.
OK, OK, I'll come clean with another reason why I'm lowballing the price of this system: I want to "rub it in" to the other gurus I hang out with, that my students will continue to beat the living, um, "daylights" out of their students, in terms of gaining wealth quickly!
So, to help YOUR bank account (and MY ego), I'm offering "Apartment House Riches" for the very reasonable investment of just $995.
Act Right Now And You Get Even More Good Stuff.
Since I know it's 100% to your benefit to act right away, I want to sweeten the pot and give you every possible reason to say YES today! If you respond immediately, you'll also receive the following:


International Investing Presentation, PowerPoint and Audio:
This three disc set includes my live international investing presentation, my actual powerpoint (which you can use for your own presentations) and an international investing audio call. These valuable resources will help you start or continue with your international investments.



Principles of Success: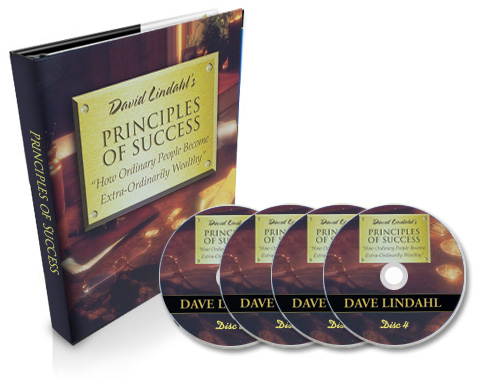 In my Principles of Success workbook and CDs, you'll discover the 13 common threads that unite successful people. And you'll know how to weave them into your own life.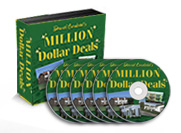 Million Dollar Deals:
This Box-Set includes, 6 audio CD's containing information from Reginald Pasteur, Bob Bowman, The Schroeders and 2 additional CD's. Everything you need to know is right in here! A $59.00 value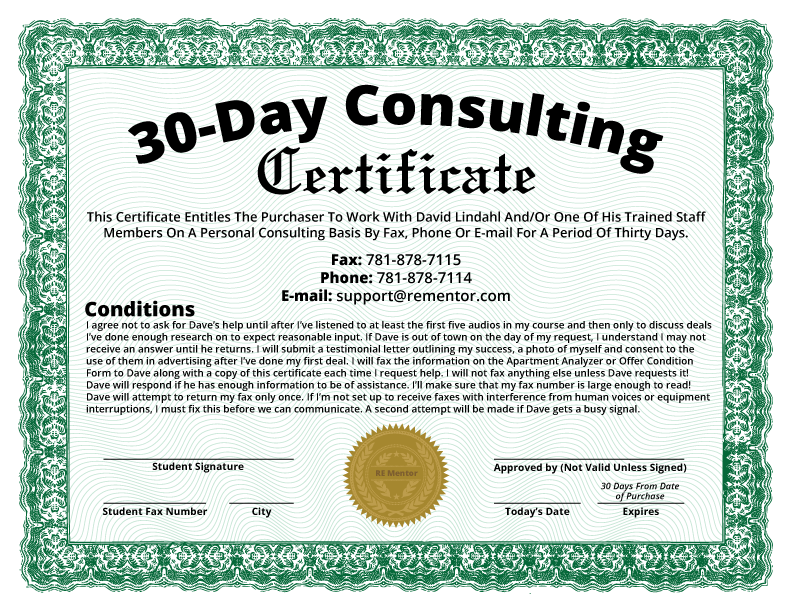 30-Day One-On-One Mentoring Certificate
And be one of the 1st 15 people who order, and you will also receive a FREE Mentoring Certificate for 30 Days!
A $59.00 value





90-Day Challenge
Now the BEST part! After purchasing this program, if you close a deal within 90 days of the purchase... I will give you your money back!




You Get Me-Dave-The Big Kahuna-
Live, In Person!
I will walk you through every deal that you do during that time, and you keep all the profits!
If you're one of the next 19 people to act, I'll personally answer your questions, mentor you, and provide the solution to any challenge you face, for a full 30 days.
I offered this bonus to some of my students last year, and I've had my plate full ever since. Fortunately for you, some of those mentoring arrangements are wrapping up.



You Cannot Lose With My Personal,
100% Iron-Clad, Money-Back Guarantee.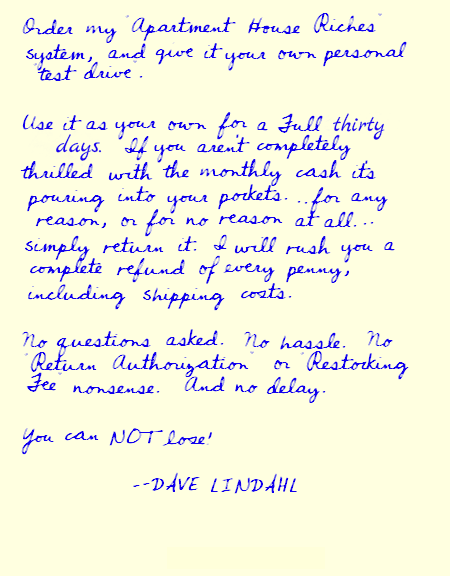 By the way, the first four bonuses are yours to keep even in the unlikely event you decide to use my ironclad money-back guarantee.
What I'm saying is, don't decide now if this product is for you. Just get it and try it out. If it doesn't do everything I say and more, if you don't save money, time and frustration, if it isn't life-changing, if you don't say "WOW!" you have nothing to worry about. That's because you can get every dime of your money back under my no-loopholes guarantee. So you have nothing to lose and everything to gain.
Your investment is only $995 for all this proven, profit-building advice.
Look, I'm serious when I say that I want to take all the risk here.
If you don't like it, or you feel it's not what you expected it to be, simply return it within 30 days, and I'll completely refund you for the system. I simply don't know how to be more fair than that.
I take ALL the risk on myself...but I don't know how long I'll continue to offer this deal, and I reserve the right to yank it off this website at any moment (maybe tomorrow).
My Common Sense Meter tells me that trying out a system that's made me and others millions upon millions of dollars is worth testing. What does yours say?
OK, Dave! I'll Give You A Chance To Prove Yourself! Rush Me A Copy Of "Apartment House Riches"
Ordering's Easy: Just click on the button below to go to my Order Form.
Simply type your name, address and payment information into the following acceptance form. Nothing technical. (But just in case something happens, we're only a phone call away.)
Once I receive your order in my office, I'll ship your course right out to you.
If you prefer, just call my office any time at 800-649-0133 to place your order. Be sure to say you want the "Internet Bonus Deal," to get all the bonuses above.
Any way you order, I look forward to proving to you how you've just made one of the smartest profit moves on the planet. Congratulations!
To your QUICK success,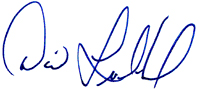 P.S. I invite you to join my "Inner Circle" of students I'll personally mentor to success. But I strongly advise you to reserve your copy of my system NOW, in order to lock in your personal mentoring. Don't delay while others grab YOUR spot. Take me for a drive by calling 1-800-649-0133 right now, while it's fresh on your mind.