Preferred equity is gaining traction and for good reason. I'm sure you've felt the overwhelming feeling of navigating an unpredictable market. It's easy to feel stagnant and insecure. It's easy to feel worried about losing your hard-earned money.
Like many others, you feel pressured into refinancing or selling just to make a return. I'm feeling it, too, at RE Mentor. Stakes and tensions are high in today's challenging market.
Thankfully, I have a whole team of awesome coaches and educators who support owners like you. We help inform and guide you to make smart financial investments and how to read the market.
Discover our mentorship program
Here's what you need to know about preferred equity and why it's the solution to your problems.
What Should You Know About Preferred Equity?
Preferred equity is a financing tool. It's not the first financing tool you'd reach for in your investing toolbelt, but it's gaining popularity. And fast.
The current market is proving to be unpredictable and risky. Interest rates are on the rise and deals are scarier to commit to. The market is challenging to navigate, let alone feel safe in.
As a multifamily real estate owner, you want your money to yield the passive income of your dreams.
But how can you even achieve that in today's market?
Should you feel pressured to refinance or sell out of fear of losing it all?
Luckily, RE Mentor is here to help you and no, you don't need to refinance and sell.
Preferred equity is growing as a solution to your problems for its higher, more guaranteed returns. Per EquityMultiple, it "provides sponsors and developers a higher degree of leverage at a lower cost than common equity…it provides the opportunity to capture a fixed rate return with a priority of payment and some upside."
Because of its security, preferred equity is a safer alternative in multifamily real estate. That means you can feel good about your investments and not worry.
With interest rates rising and the high risk of the current market, "Multifamily sponsors are facing significant 'gaps' in financing." This means lenders are holding back on funds and leverage. But don't let this scare you.
Preferred equity is your safety net for navigating these unpredictable waters. Applying this skill helps you finance multifamily real estate investments confidently.
Why You Can Trust Preferred Equity In Today's Market
Today's market can feel like a roller coaster ride: scary with many twists and turns. It can feel intimidating to invest right now. It can feel intimidating to buy right now. Maybe you're convinced your only smart option is to sell.
In the past year alone, the market has gotten more fragmented. Stakes are high and your wiggle room is low.
But don't let that scare you into impulsive decisions.
Thankfully, preferred equity is a path you can trust. It displays "equity-like returns and debt-like protections", meaning you have less to worry about in the multifamily market. What used to feel like a huge risk is now something you can feel confident and safe about.
With certain debt-like characteristics, preferred equity investments include:
A fixed-term or redemption rate
Repayment of all its return
Principal before cash is distributed to the sponsor
Control rights
Preferred equity is the buffer you need to work through today's market.
Preferred equity helps you stay securely afloat in unpredictable waters. It gives you the life vest you need to invest and still see significant returns even in today's market. Preferred equity is the ultimate cheat code!
The Challenge And The Opportunity With Preferred Equity
Given the current climate of the multifamily real estate market, preferred equity is not only an alternative but a necessity.
Sponsors who usually wouldn't entertain the idea of this form of equity are now eager to do so. This is your time to take advantage.
Preferred equity is on the rise, and it'll continue to climb. The rise in interest rates and softening of rents forces owners into refinancing or selling. Don't let this be you.
Be proactive. Use preferred equity as a perfect solution to your problems.
Yes, the current market is challenging and overwhelming to navigate, but there's a great opportunity to entertain another area of equity – one that might save you in this challenging market.
The greatest opportunity you have available to you lies in RE Mentor's education. After all, you don't need to navigate this all by yourself – especially when you have great mentors on your side.
Knowing about preferred equity is one thing, but applying it with confidence is another!
You don't want to humiliate yourself out there in the multifamily wild. The market is too unsteady to try it out alone right now. And you want to feel empowered, not fearful.
Luckily, RE Mentor has your back. Our mentorship program teaches you how to finance deals and how to navigate the market. So you will never be led astray, no matter how challenging the market gets.
Your education with RE Mentor helps you be resilient. It prepares you to weather the inevitable storm the market throws at you. Our personal guidance helps you feel comfortable and confident in multifamily real estate.
These are some of the many ways to finance your multifamily deals; RE Mentor is well-versed and experienced in all of these methods: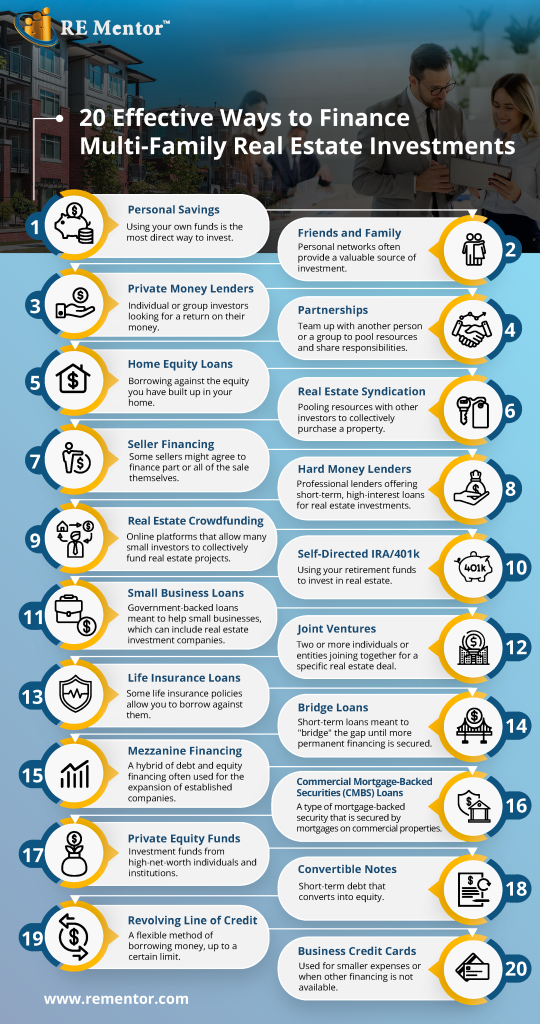 RE Mentor provides the best education and guidance to make you successful. Many of our students have inspiring tales to tell about how they made millions with our program.
When will you be next?
Discover our mentorship program
Tying It All Together
Preferred equity is on the rise as a great solution in navigating today's tricky market. Use this challenge to your advantage by educating yourself and applying it in real-time.
Our mentorship program gives you a personal experience and enhances your confidence in the multifamily real estate market.
In the face of adversity, allow it to empower you instead of cower!